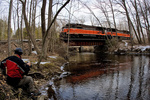 Well, I took the day off from work yesterday (March 5, 2007) to photograph the historic first revenue run over the formerly dormant Providence & Worcester Willimantic Branch between Versailles and Willimantic, CT. Fellow rail photographer Bob LaMay joined me for the chase from Plainfield to Willimantic, and back to Versailles, where we called it a day. The only casualty for the day, other than a few sore muscles, was the Shetucket River ate one of my lens caps. I guess it could have been worse…
For now, here's a few select shots – more will come in the days ahead.
The train was powered by PW 2215 and PW 4003, and traveled from Plainfield to Willimantic as light engines. Once they got within the yard limits, NECR train 608 was there, and spotted 20 cars for the P&W to return to Plainfield with.
First shot is of the light engines passing over a tributary of the Shetucket River just downstream of the Scotland Dam in Windham, CT. Yes, I meant to get Bob in the frame. 🙂
And here's NECR 608, with a pair of ex-CN leased units for power, pulling south after dropping the 20 cars on the P&W main for MFS-5 to haul back to Plainfield:
Now the train is just upstream of the Scotland Dam, crossing a causeway along the icy Shetucket:
And finally, the train gets closer to the Scotland Dam, as a fellow photographer waits for his shot. No, it's not Bob, he was standing to my left at that time – any guesses who it is? 10 extra points if you get it right, and the points are completely worthless 😉
That's all for now. I'll be posting some shots of the regular P&W freights NR-2 and NR-3 getting their trains together and departing Plainfield later on today, if all goes well. Stay tuned for more MFS-5 shots – I'll probably post a couple more over the next few days.
Thanks for looking and enjoy!
Tom Nanos