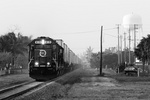 Just wanted to share a few select shots from my adventures around the Boca Raton/Deerfield Beach, Florida area. Took the family down there to visit my parents who live in Deerfield Beach, FL, smack between both the FEC and CSX/TriRail tracks (we also did visit that big mouse in Orlando for a couple days at the beginning of the trip). So I tried to get out as much as I could – not much FEC action, because as my shit luck had it, FEC was doing track work up and down the entire line the week I was there – ranging from rail grinding in the north to undercutting/ballast cleaning in the south (more on this in a bit), so quite a few trains were annulled (mostly the unit rock trains and corresponding empties – manifest, juice, stacks/pigs & autos all still ran), and most everything ran at night. But I did catch a bunch of TriRail and even one daylight CSX local. OK, enough blabbing, here's the goods.

For more pix beyond what I've put in this email, click the link below to get to the
overall Photo Journal for the month of February – each sub gallery is organized by date.
http://www.nanosphoto.com/gallery/index.php?cat=32
Now on to the goods…
TriRail, surprisingly, provided a variety of equipment to photograph. Not only the usual F40s and double deckers, but I also caught a couple GP49H-3s, and even a set of DOT DMU demonstrators. Here's a few images below.
F40 Meet at Deerfield Beach:
Friendly wave from the southbound engineer:
GP49H-3 at Boca Raton:
Southbound with the pair of DMU demos at Delray Beach:
Another GP49H-3 at Delray Beach:
Now to the freight stuff. Caught one CSX local in daylight, the Pompano Switcher O-717, working a customer just south of the Deerfield beach station.
Pulling out of the customer's siding, with an apropos TriRail sign:
And another visitor came floating by – the Goodyear Blimp. It's home hangar is just to the south in Pompano Beach:
Finally, some FEC action. Due to the trackwork on the system, I was only able to catch one train in daylight – train 206, which is a northbound pig/stack train that hits the Deerfield/Boca area around 8am. The train typically runs around a mile and a half long, and has 3-4 GPs on the point. Here they are racing through the straightaway in Boca Raton at a good 50-55 MPH:
And a bit further south, crossing over the Boca Raton/Deerfield Beach canal:
OK, now for the trackwork. On Monday the 19th, my wife & I took off early, leaving the kids with my parents. Well, we did get a bonus – FEC was operating a leased CP undercutter in Boca Raton, heading south cleaning the ballast. Where we came across them (same spot I got FEC 206 in Boca above), there were great views of the RoW. Here's athe shots of the machine in action – it's quite an interesting beast:
Head to this album
The buisness end of the machine:
No issues with photographing the crews working, and there was an FEC foreman there watching over the operation. I just kept my distnace, and out of their way. I spent a good hour there photographing them work. Glad my wife had a crossword puzzle to do in the car. 🙂
And that was it! Glad I could get some railfanning in while I was down there. Boy was it nice being out trackside in shorts…heh…
Thanks for looking & enjoy!
Tom