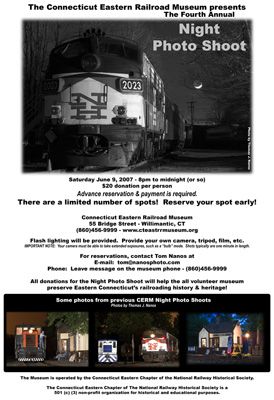 Well, it's that time of year again folks – time to get the tripods out and get ready for the fourth annual Connecticut Eastern Railroad Museum's Night Photo Shoot! This year should be an interesting one – we'll have a couple new locations to shoot from, thanks to the volunteers who have been hard at work laying track around the museum. We may even be able to have a shot or two down by the turntable! Anyways, here's the details:CERM 4th Annual Night Photo Shoot
Saturday June 9, 2007
Digital and film cameras are all welcome – the only catch is your camera must have a bulb exposure mode so you can do the long exposures. They're typically around a minute in length.
Flash lighting provided
8pm – midnight (or so)
$20 donation per person
Limited spots, so get in early!
Here's a poster above with all the details on it. Click on it for a much more readable version. 😉
Lighting, as it has been the previous three times, will be provided and run by by Mark Player, but we're also bringing on one more guy with lights to help out with a couple of the larger shots. Our guest light-guy would be none other than Steve Barry of Railfan & Railroad magazine. He'll be there mostly as a photographer, but agreed to lend a hand with a couple of the larger, more complex shots.
For your viewing pleasure, here's a few shots of mine from past years.