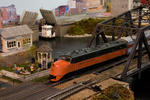 You must be asking yourself, what the hell is the Fair Hope & Northern Railroad? Well, I can tell you that it does exist, but only in HO form. The Fair Hope & Northern is the creation of a friend of mine, Steve Rodgers (lead singer, guitarist & songwriter for the band Mighty Purple and owner of The Space, an all ages music venue in Hamden, CT), and exists in his the basement of his family's Hamden home. Loosely based on Steve's favorite railroad – the New York, New Haven & Hartford – it features a variety of scenes including a port, rural farm town, an industrial area – with an "adult" bar named the Peekaboo Lounge – and a bucolic New Enlgand town. With the layout about 95% complete, Steve had an open house weekend and invited me down to check things out. Of course, the camera kit came along for the ride.
The last time I saw the layout was a little more than a year ago (click here to see some photos from that visit), and it's changed quite a bit since then. Most of the incomplete areas from last year are now either totally complete, or nearly finished. He's also installed plexiglass protection around the perimiter of the viewing area (which we promptly took down for some really cool camera angles). A little background on the layout – quite a few of the buildings are scratch built, as are all the trees and other plants & ground cover. I tried my best to show the detail and workmanship of the layout in the photos I took, while also trying to show the scenes as you would if you were standing there. Feel free to comment on the photos – either here in the blog, or on each individual photo in the gallery.
The layout is divided up into four different towns, each representing a different type of area.  They are:
Fair Hope, CT – a nautical port town
Pine Ridge, CT – a rural farm town with some mountains & hills
Tribute, MA – a factory and industrial town, and the home of a swing bridge & drawbridge
Grelock Falls, NH – a town at the base of a waterfall in rural New Hampshire
For you camera geeks out there, all were shot at either f/20 or f/22 using one of the three following lenses – Sigma 15mm f/2.8 EX Fisheye, Sigma 18-50mm f/2.8 EX DC or Sigma 70-200mm f/2.8 EX DG APO HSM Macro. Lighting was a blend of ambient and flash from two units – a Canon 420EX with a Sto-Fen Omnibounce on the camera, and an old POS flash on an optical slave providing some backlight. Most exposures ranged from 2-4 seconds, with the 420EX firing once, and the off board flash twice. Of course, the rig was on my Manfroto tripod & 3 way head combo, and fired using the remote shutter switch.
OK, enough blabbing – here's the photos. Yes there's a bunch – 39 to be exact.
Head to this album
Thanks for looking!
Tom