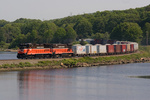 I'm sure you're asking yourselves "What on earth is he talking about now?" Well, read on and you'll get your answer. I headed to Erickson Park in Ledyard, CT again for my walk this morning, and did end up bagging NR-2 rolling southbound on this rather warm Friday morning before the long Memorial Day weekend. As I pulled into the parking area of the park, I was greeted with a rather calm Mill Cove in front of me, yeilding some very nice reflections of the surrounding scenery. Sweet, I'd get a shot of NR-2 running along the calm waters! Or so I thought…
After my walk around the park, I headed into my position to the south ahead of the arrival of NR-2. While looking for possible angles, I noticed a pair of swans on the causeway – one was in a nest, and the other was nearby watching over her.
The weather was still holding – only a breath of air was moving, and the water was still like glass. A moment later, I heard horns to the north, then a crackle over the scanner – NR-2 was south of MP5, and less than a mile away from me. So I got into position, and as I turned around, looking at the cove from my vista, the wind kicked up and rippled the entire cove! Yep, in the 10 seconds it took me to climb a small wall, and walk a bit up the hillside, the water changed from glass to fabric! Oh, well, nothing I could do about it, and NR-2 was now sounding for the Red Top crossing. So I snapped a few shots of them, still giving a bit of a subtle reflection in the water, but not what I had originally envisioned. First, the train pulling through the curve at the north end of Mill Cove
Then a shot of the power passing the new swan family
And a couple generic type ones of them passing by
Then a string of red Tilcon hoppers rolled past
Moments later, the trailing power rolled onto the causeway, and past the swan family
And one more of the generic variety
Then they were out of sight. Hopped back in the car and headed south. They were to work a bit in Fairview before heading to Midway, so I didn't have time to stick around and catch them heading to Tilcon. I did stop off at the USS Nautilus overlook park south of the Sub Base to get a shot of the first nuclear sub all decked out for the Memorial Day holiday weekend.
You can't see it here, but it's getting quite overgrown, and there's not many angles left to shoot through at the so-called overlook park. Pretty soon, you'll get a really nice view of growing trees, shrubs and weeds, with something that resembles a submarine buried in the background. I wish the Town of Groton would do something about it, but in these tight financial times, I'm not counting on it…
Thanks for looking!
Tom