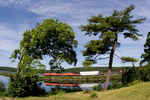 Well, with the sunny skies this morning, I figured I'd tweak the images I shot yesterday up at Mill Cove in Ledyard. So as I did yesterday, I headed for the cove area for my walk, ahead of the arrival of Providence & Worcester train NR-2.
As I was walking and checking out the shots I took yesterday, my cellphone rang. Bob LaMay had just bagged NR-2 in Norwich and gave me a heads-up that they were heading my way. Perfect – that would mean they'd be in my area in another 10 to 15 minutes, which gave me enough time to finish up my walk and prepare the shots.
While walking, of course I took a few other photos. First of a corporate jet passing overhead on their way for a landing at the Groton-New London airport.
And a few flower shots.
Then the sound I was waiting for – horns to the north sounding fo the Dow Chemical crossings at MP5. A couple minutes later, the rumbling of the train grew louder, then the horns for the Red Top crossing. The angles should look somewhat familiar, but I think they worked better on the sunny day, with the blue skies sporting whispy cirrus clouds.
I couldn't pass up the reflection on the cove, so I pulled the Fisheye off and threw on the tele
And back to the fisheye
Then a flip-flop back to the tele
Which finished things off for me. It was time to head back to the office for the remainder of the day.
Thanks for looking!
Tom