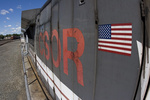 I had the pleasure of riding with the crew of Connecticut Southern Railroad train CSO-4 on Saturday June 23, 2007. In addition to the friendly conversation, often times peppered with gut-wrenching laughter, I took a few photos. OK, it was more than a few – well over 700 in fact… 😀 I did pare it down to about 100 keepers, of which you'll see a little less than 50. For now… stay tuned for more sometime in the future.
First off, thanks to the guys at the CSOR, including of course the two guys working CSO-4 on Saturday for letting me tag along for the day. It's always nice getting the view of railroading from the perspective of the employees that get these trains over the road, instead of the typical trackside view.
Quick synopsis of the day – Between Hartford and West Springfield, we encountered a few Amtraks, an eastbound CSX stack train, a northbound PanAm freight (PLED if you're curious), four railfans, one of which I recognized (hi Tom!), and some downright gorgeous weather.
OK, enough blabbing – here's the goods.
Head to this album