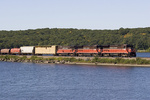 September has barely begun, and I'm already starting to see fall colors around southeastern Connecticut – even close to the shoreline, which traditionally has had a late color season. Maybe this year it'll be early. Time will tell.
I got out for my normal walk today, so I headed for the usual Erickson Park in Ledyard, CT. I got there as NR-2 was reporting that they were south of MP12 in Norwich and about 15 minutes from the Sub Base. That gave me enough time for a brisk walk, and to pick my spot. Because I was feeling somewhat lazy today, I only shot with the digital and left the film camera in the car. But that was a good thing, because I noticed something in the trees across the river in Montville – some were showing colors other than green! Yep, fall is upon us here in southern New England. OK, I'll work this into the shots for today.
As I picked my spot, NR-2 began sounding for the crossings at Dow Chemical a mile to the north. A couple minutes later, NR-2 made their usual racket at Red Top, and rolled onto the causeway between Mill Cove and the Thames River. I got a shot of the lead power with some of the changing trees across the river.
Then a shot of the trio of GEs bringing up the markers with more color across the Thames
And one final shot at the Cove of the power slipping into the treeline at the south extent of Mill Cove
From there I headed down to the Thames River drawbridge to check on the progress of the bridge work. As I got there, Amtrak train 170 got permission into the New London station, and I happened to catch a shot of them approaching Shaw's Cove
But it sounded like NR-2 would be waiting at the wye for a little while, and I couldn't wait around. So I grabbed a couple stock shots of the continuing work on the east tower of the drawbridge. Looks like they added another section since yesterday.
A look at the watch, and it was time to pack up and head back to the office. So the gear went in the bag, and I headed south for the remainder of the day.
Thanks for looking!
Tom