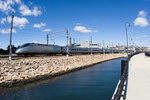 This morning due to my meeting schedule, I wasn't able to head out for my normal walk, but I did have some time free up over lunch. So after I scarfed down my taco salad from the cafeteria (it is a salad, so it must be healthy…yeah, right – I don't think it's Weight Watchers approved…), I headed out on a whim to hopefully catch some action over in New London by the waterfront boardwalk. Action is exactly what I got.
As I left the parking lot and headed towards the Gold Star Bridge, there was some quite clear radio chatter on the P&W frequency. Since I was still quite a ways away from the NECR yard in New London, and I was picking up both ends of the conversation between the conductor on the ground and the engineer in the cab, that meant that P&W train NR-2 was working the Tilcon plant at Midway here in Groton. Pretty cool – I'd at least get NR-2 over in New London. So I headed west over the Thames River as NR-2 continued their work behind me in Groton.
As I was making my way through downtown New London towards Shaw's Cove, NR-2 was requesting a signal to head west from Groton, with their next stop being East Lyme. The Amtrak Shore Line dispatcher informed them that they'd be following train #2173 across the river. All right, a westbound Acela too! So I parked the car, and started gathering my gear, when just then the signals activated at Shaw's Cove. Jeez, that was quick! Nope, it wasn't 2173, but instead it was an eastbound Acela. Not a big deal – I'll get the next one. So I made my way out along the walkway and waited for the Acela.
A couple minutes later, the distinct horns of the Acela trainset echoed off of the buildings along the tracks, and here came the silver and blue train, plodding through the station area. Another half a minute, and it was near me, under some nice blue skies
With them passed by, NR-2 wouldn't be far behind. So I grabbed a shot of a pair of sailboats moored nearby
Just then horns sounded for Governor Winthrop Ave to the north. NR-2 was on their way. A moment later, they crawled around the corner on track 2 by the station, and came to a stop for some reason.
It looked like an Amtrak employee in a yellow vest was talking to the NR-2 crew for a couple moments. So I took the opportunity to get a shot of a pair of US Coast Guard ships – the Eagle and a tugboat, both tied up at the Fort Trumbull pier
Then NR-2 got on the move again
And rolled past my position, slowly gaining speed
Grabbed a few shots of the trailing power
And one more of the trailing power on the far side of Shaw's Cove
A quick look at the watch told me I had just enough time to get back to the car, pack up and get back across the river in time for my next meeting (which actually was an ice cream social – can't miss that!)
Thanks for looking!
Tom