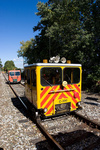 Finally got my photos from the speeder ride I took back on the 14th processed. It was a beautiful day weather wise, and that coupled with the great scenery along the New England Central Railroad's Palmer Subdivision between Willimantic and New London, Connecticut and a bunch of really truly nice folks, it turned out to be a fun day on the rails. First off, a huge thanks to Jeff Z. and Fred M. who let me bounce between their speeders during the tour of the NECR rails, and of course another huge thanks to Warren Riccitelli of the North East Rail Car Association (NERCA) & the North American Rail Car Owner's Association (NARCOA) and the New England Central Railroad for putting the trip together and making it happen.
Instead of the usual blow-by-blow account, I'll just spew out the photos. Actually, here's a small random sampling of the photos in the gallery – there's 92 in all in the public gallery (another private gallery for ride participants contains an additional 96 photos), so there's plenty to see.
Head to this album
Again, thanks to all involved – it was a great experience for sure! I'll be doing it again sometime in the near future.
Thanks for looking!
Tom