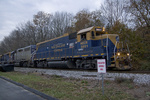 Jeez. Missed some pictures from Friday. I ended up catching New England Central train 608 heading north in Franklin, CT on my way home (and eventually to Toad's Place in New Haven).
As I was getting off of Route 2 onto Route 32 in Yantic, something caught my eye to the right in the trees. As I looked through the trees, I saw NECR train 608 heading north past the nudie bar. Hmmm, maybe I can catch them up by Cargill & Kofkoff. First stop I'd try for is behind the American Cancer Society, south of Cargill.
I got there just as 608 was crossing Route 87 to the south of me. So I set up for a telephoto shot of the train pulling through the crossing.
Then a wider shot of the train passing the "Evacuation Assembly Area"
Then a going away shot of the purple dino…er, I mean GP-38
From there, I tried to leapfrog them and get a shot at Murphy Road. I got there just as the train was activating the crossing, but they stopped. Looked like they were cutting off some cars to shove down into Kofkoff. So once the crossing flashers stopped, I headed across and got a shot of the power coming north
Then a couple blur shots of the power heading past the signals at Murphy Road as they were shoving down the Kofkoff lead
With the light fading, and my time running out, I packed up and hit the road to get ready for a rare night out with my wife, and without the kids!
Thanks for looking!
Tom