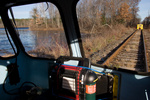 I was asked if I would be able to tag along and photograph a track car run on the Pioneer Valley Railroad in Westfield, MA. Of course I gladly accepted – not only was it something I enjoy photographing, but it was also for a good cause. The organizers of the run – the North East Rail Car Association – were putting on the run to gather toy donations for a local orphanage. How could I pass this one up? So I headed north on the morning of December 1, 2007 to Westfield, MA – the site of the Pioneer Valley Railroad's engine house and offices. When I left the house at just after dawn, it wasn't too bad out – kinda chilly, but nothing unbearable. But I'm glad I listened to the weather forecast – they were calling for falling temps through the entire day, with increasing winds. So the gloves, hat and liner for the jacket went with me. Oh, yeah, and a spare set of batteries for the camera to keep warm in my shirt pocket. Lithium ion batteries don't like the cold too much.
I got to Westfield a bit early – only one of the speeder owners was there ahead of me. So I headed for Dunkin' Donuts for a coffee and to use their facilities. By the time I got back, a few more folks were there, and soon after that, the NERCA president, Warren Riccitelli, pulled in with his speeder.
After some BS-ing, we got the approval from the PVRR to set the track cars on the rails next to the engine house. As the cars were being taken off of their trailers and set on the rails, Warren told me to check out the inside of the engine house. So I headed inside for a bit and snapped a few pictures before returning to the cold air, shooting the cars as they were moved to the rails.
The day would proceed like this – first the group of track cars would head north for a few miles until the crossing at Summit Lock Road, where we'd turn and return to the engine house. After that, the Santa Train would head north about 8 miles to Holyoke, with the speeders following behind. There the kids would get off of the train, and ride the carousel in Holyoke. While that was happening, the speeders would turn, and the locomotive would run around the coach, preparing for the ride south. Then finally, the train would head south, again with the speeders bringing up the rear.
Here's the images from the day.
Head to this album
Thanks for looking!
Tom