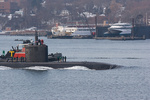 Well, I guess I jinxed myself yesterday when I said that it seemed Providence & Worcester train NR-2 was settling back into their normal schedule. I got out a bit late, but nothing out of the ordinary, so I figured I'd at least be able to catch NR-2 at the Nautilus. Short answer – Nope.
As I was heading north on Thames Street, something odd came across the scanner on the Amtrak frequency. The Amtrak Shore Line dispatcher was informing a track car that they couldn't move yet because NR-2 was approaching them. But the odd thing was the location of the track car – the Connecticut River drawbridge (aka CONN) between Old Lyme and Old Saybrook! Well, that answers that – no NR-2 today. Oh, well, at least I got out for a bit.
As I was passing Electric Boat and contemplating where to turn around, something on the Thames caught my eye – the sail of a northbound Los Angeles class fast attack sub. With where she was and where I was the only spot I could catch them was just south of the drawbridge. So I set my sights for that parking lot.
I got there just as the sub was passing the State Pier in New London. And it wasn't just the pier – the freighter Kom was tied up unloading copper anodes destined for Phelps-Dodge in Norwich. Shot #1 is of the pair
Next up is a wider shot with the decrepit dock in the foreground
Swapping the telephoto on, I got a closeup of the sail as the sub passed by the State Pier
Then back to the wide angle for a shot of the attack sub heading for the opening bridge
As the sub and her escorts went through the drawbridge, I hopped back in the car and headed north. I picked a spot south of the Nautilus, right across the river from the Thames Shipyard. The sub got there a minute later – the first shot was of the bow of the boat with the drydocks in the background.
Then a tight crop of the sail as they passed in front of a high speed ferry in drydock
And a bit wider with the John P. Wronowski in the next two frames
Just then a US Coast Guard rigid hull inflatable escort came up alongside the sub
And as the sub passed by, I clicked off a trio of shots
A minute or so later, another trio of shots of the flotilla heading towards the sub base
Pretty good salvage for a morning that lacked any rail action. On the way back to the office, I pulled off and got a couple shots of the Kom as she unloaded her cargo of copper
Then I packed up and headed back to the office for the rest of the day.
Thanks for looking!
Tom