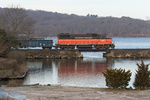 To all you Canadian readers out there – happy Boxing Day! Unfortunately, its not a holiday here in the States, so I had to drag my ass into work this morning. Oh, well – with most folks taking the rest of the week off, work would be light, and I'd be able to get out and hopefully catch Providence & Worcester train NR-2 somewhere around Ledyard. Too bad the sun & wind wouldn't exactly cooperate.
I headed out at the usual time, hoping for a sign as to where NR-2 was, but on my trip north to Erickson Park I got zero information from the scanner. So I took the scanner along for my walk around the park.
Once I finished up, the scanner was still giving me the silent treatment. I said to myself, I'll give it another 5 minutes and then I'll have to head back to the office. About 3 minutes later, NR-2 reported that they were south of MP12 and about 15 minutes from the sub base. Cool! A quick look at the cove showed a glassy calm surface. If everything stayed the same, it'll yield some nice reflections.
About 10 minutes later horns to the north pierced the silence of the Thames River valley as NR-2 sounded for the crossings at Dow Chemical about a mile to the north. At that point, I started the car and made my way to the south end of Mill Cove.
A minute later, NR-2 started blowing for the Red Top crossing and made their way past MP4
And onto the causeway between the cove and Thames River
Then another standard shot, but this time with a twist. The Harvard boat house in the background, but this time with a trio of ducks flying by in the foreground
As the train passed by, a couple friendly toots from the lead engine came across the water. Next up was a shot of the power heading over Mill Cove's inlet
Then the trailing power headed my way, so a shot with the NRG Montville cogeneration plant across the river in the background was next
And a final shot of the train again crossing the inlet to the cove
From there I headed for the Thames River drawbridge to try for a shot there. Listening to the scanner on the Amtrak frequency, it sounded like it would be a while before NR-2 would hit the corridor. So I decided to call it a morning and head back to the office for the day.
Thanks for looking!
Tom