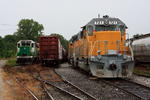 Today was my 39th birthday.  So to celebrate, I took the day off from work.  For the first part of the day I chased Providence & Worcester train NR-2 from Lisbon to Groton, CT.  Then I went home for a while.  Then I decided to head out again, this time with my wife & youngest daughter.  And we headed north to catch the New England Central, and the Florida East Coast.  Yep, that's not a typo – the FEC.
I headed out a bit early this morning, hoping to catch P&W train NR-2 somewhere north of Norwich.  So not being sure of when they were actually on duty, instead of taking the direct route out to Plainfield, I took the scenic route, heading south to Norwich, before going north on Route 12 towards Plainfield.
By the time I was in the northern reaches of Griswold, and approaching Canterbury, NR-2 headed south out of Plainfield with 2 engines and 3 cars (2 loads and one empty, if you're curious).  So I turned around and headed back south.  Well, I'll keep it brief (mostly because I don't feel like typing too much…), but I bagged NR-2 crossing the Shetucket River on the Lisbon/Nowrich line, in Norwich, at Mill Cove, and finally crossing over to track 4 in Groton, on their way to Tilcon.  Also along the way I caught an Amtrak Acela crossing the Thames River, the cargo ship Saga Journey, a pair of tugs and a USCG rigid hull inflatable all around New London.  Here's the pix of that – scroll down for part two, in Palmer.
Head to this album
After that, I headed home for a while, and after my wife & youngest daughter got home, we deicded to head out for lunch, and eventually Palmer, MA to see what was going on.  On the way north, at State Line, we caught an NECR ballast extra waiting at the north end of State Line siding.  Aparently they were there to repair a washout in the siding a bit further south.  But the really interesting thing was what was resting in Palmer yard.  The pair of Florida East Coast SD40s that are on loan to the NECR were sitting in the NECR Palmer yard, presumably waiting to head north on train NEMPAST.  So of course I shot the hell out of it.  Also, we caught a NECR switcher working the CSX interchange.
Head to this album
After that, we had to head back to get my oldest daughter off of the bus.  Despite the crappy weather, it was a great birthday.
Thanks for looking!
Tom