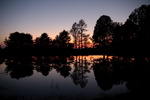 As has been recently, I haven't been able to get out much and shoot anything, never mind any railroad action.  But I had to run to Old Lyme after work today, and the sunset was pretty nice, so I checked things out along the Shore Line.  But as things would turn out, no trains were in the picture.  But I did manage to snap one picture before heading home.  And on the way home, something else caught my eye, so I grabbed a shot of it.
Heading west through Old Lyme, I had one shot in mind, and I thought it would work out with the sun.  That shot was from the crest of the Route 156 bridge that goes over the Sound View detector.  From there is a nice view of the Connecticut River drawbridge.  I got there, parked the truck and was greeted with a nice golden hue over the drawbridge.  Too bad it was open – that meant no trains were in the picture.  Oh, well…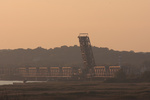 Not too bad.  Then I hit the road for home.
On the way home, as I was traveling through Franklin the sunset caught my eye.  Just as I was thinking "too bad there wasn't a nice looking scene that could work with this beautiful sunset," a nice looking scene passed right by me.  So a quick U-turn, and I was back just in time to get this shot as the sun was disappearing below the horizon.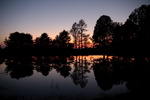 Pretty good for a couple grab shots, eh?
Thanks for looking!
Tom