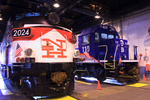 A couple weeks ago, good friend and fellow photographer Bob LaMay and I took a ride out to the Metro North Croton-Harmon shops for their annual open house.  With some time limitations on both of our parts, we planned our day out, instead of using the usual "wing-it" scheduling I'm used to.  Our plan was to head to the MN shops first thing, do our tour and get our shots while the crowds were minimal, then head north around lunchtime to the Iona Island/Fort Montgomery area around the Bear Mountain Bridge and shoot whatever we could find there.  Of course, being on the west side of the Hudson, we were looking for freights.  The Amtraks and MetroNorth runs on the other shore were a given – we knew there would be a ton of those.  But how many freights would we catch?
Got a bunch of photos in this post (62 to be exact), so I'll keep the story part short.  Bob & I got up to Croton-Harmon around 9am – about 30 minutes before the first bus to the open hosue was to arrive.  So we shot around the station area as MetroNorth and Amtrak trains came and went.  About 40 minutes later we were heading for the shops, where we spent the next couple hours shooting the various locomotives on display, and ran into Steve Barry (editor of Railfan & Railroad) along the way.  We also decided to take a nice relaxing train ride up the east bank of the Hudson on one of the many runs MN made out of the shops (the run went to just short of Garrison, NY).  After getting our fill of the shops, and with the crowds increasing in size, we decided to head out and get a bite to eat on our way north to the Bear Moutnain area.
We shot at a few places along the Hudson, both north and south of the Bear Mountain bridge.  We grabbed 4 freights on the west bank and a number of MetroNorth and Amtrak passenger runs on the east.  All in all a great day – beautiful weather, and great company.  The only thing that would have been the icing on the cake was a bit more color in the foliage.  But it wasn't entirely green, so it worked out well.
OK, here's the goods.  As usual, feel free to comment.
Head to this album
Thanks for looking!
Tom