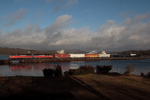 I was able to get out for a bit this first day of December, and things fell into place on the timing of things.  Not only was I able to catch NR-2, but also the skies cleared up, bathing the train in some pretty nice morning sunshine.
While travelling down I-395 on my way into work, I caught a transmission on the P&W channel – NR-2 was now southbound from Plainfield.  Some quick math in my head told me I had enough time to get into work, do a couple things, then head back out to catch NR-2 in Ledyard.
Right on cue, I headed back out of the office, and fired up the scanner.  Just as I was passing by the Electric Boat shipyard, NR-2 reported that they were done in Norwich, south of MP12 and about 20 minutes from the Sub Base.  Perfect!  And looking at the skies, the clouds were clearing up!
About 10 minutes later, I got to Erickson Park, and stopped the truck in the parking lot.  Just then, the clouds began to thicken back up, and obscure the morning sunshine.  Oh, well, I'm here, so I'll deal with whatever weather I get.
After another 5 minutes or so, a chirp came across the scanner – NR-2 was getting close.  So I started the truck back up and headed south.  Just then, NR-2 contacted the Worcester dispatcher and reported that they were south of MP5.  Now if only the clouds would clear up.
Well, just as NR-2 came into view above mile post 4, the cloudes opened up, and bathed the causeway with sunlight!  Then NR-2 rounded the bend at the top of the cove.
And a bit wider
Then switching to the 20D with the wide angle lens, I got a shot with some of the advancing clouds, set against the blue skies
With the photos done there, I headed south to catch the train crossing the Thames River.
On my way south, it sounded like NR-2 was picking up a couple cars in Fairview, so I had time to get down to the parking lot south of the drawbridge.
Just as I got to the parking lot, the tug Patricia Ann passed by
And a few minutes later, NR-2 got permission from the Amtrak New London dispatcher to head west.  As they rolled into view, I got a shot of the power pulling onto the bridge
And a wide shot, getting the entire train stretched out on the bridge
Since it was a windy day, the shots across the river as NR-2 rolled over Shaw's Cove wouldn't be that great, so I decided to pack up and call it a morning.  Not a bad 40 minutes…
Thanks for looking!
Tom