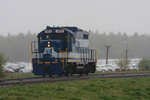 Last week I got word from Nick Palazini that the Seaview Railroad in Rhode Island had received 30 loaded autoracks for the unloading facility in Davisville, RI.  As things worked out, I was able to join him for a few hours on Thursday morning to photograph the large move.  Despite the foggy/drizzly weather, I think we did rather well.
Like you've already read above, the short story is that the Seaview Railroad brought 30 loaded autoracks to the NORAD facility in Davisville, RI, where they're unloaded and put on ships for transport to other countries.  As things worked out, we were able to photograph the Seaview crew shove 20 of the 30 cars into the NORAD facility before I had to get back to work.  And I think the foggy/drizzly weather aided the shots – not only for the mood, but also most of the shots were done facing in an easterly direction.  If it was a sunny day, quite a few of the shots would have been at the very best difficult to take.  So last Thursday, the clouds were actually a blessing.
OK, enough talk – here's 38 shots from Thursday morning's antics.
Head to this album
Thanks for looking!
Tom