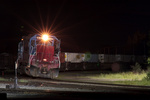 Last night I did a slideshow for the Northeast Prototype Modelers Meet out in Collinsville, CT.  The show was on railroads at night, and went over rather well.  Since I was out and about anyways, I decided to meet up with fellow photographers Nick Palazini and Dave Jodoin somewhere up on PanAm's District 4.  As things worked out, we ended up meeting at East Deerfield, MA and doing some shooting around there.
The plan was that I would head up towards Royalston, MA after I was done with the slideshow, and we'd shoot whatever trains we came across on the way west.  As things worked out we were running late – as in I was taking longer than the GPS said, and Dave had to get a new headlight – and decided it would be best to meet up in East Deerfield instead.  So I headed there first – I figured that I had a good hour to myself there before Nick & Dave showed up.
As I got there, not much was going on.  Just some power down by the crew trailer and the sand towers.
So now what to do?  No way I was getting closer to the power to light it up with the Lumedyne (hey, that would be trespassing!), so I just went back to the car and relaxed for a few minutes and listened to the scanner.
Well, that scanner had some good news.  It sounded like a train was heading this way.  Not long after that, I saw headlights to the east, so I grabbed my gear and headed up towards Railfan Bridge to get a better angle.  From there I saw AYMO come to a stop just short of the signals, and the crew get off.
Then I got a couple shots from different angles
One of MEC 515 idling away by the crew trailer
A couple more of AYMO
And a tie crane sitting down by the tower
Then it was back to waiting.  In that time I saw another crew van come up, presumably bringing a fresh crew for AYMO to continue west to Mohawk, NY.  Not long after that, Nick called in with a status report – they were close, but we weren't srue if they'd make it by the time AYMO headed west.
Sure enough, the van did bring a fresh crew for AYMO, and when they got aboard they did their normal pre-departure checks
Then began to do their set and release brake test.  Just as they were doing that, Nick & Dave pulled in.  While we were chatting, I got a shot of AYMO, and some of the fog whisping in
Not long after that, they pulled out
And while they were pulling out, a switchman came out to line a switch closer to us
After AYMO cleared the area, a trio of locomotives pulled out of the hosue tracks
And headed to the east end of the yard.
From what we could gather, this was to be the power for EDNM in the morning.
After that little bit of action, there was nothing doing.  So we got a couple more shots of the 515 idling away
And decided to call it a night to make the 2 hour trek back home.  It was a long evening, but well worth it.  The slideshow was well received, and I netted a few neat shots in East Deerfield.
Thanks for looking!
Tom