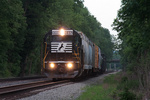 I've been down in New Jersey for work this past week.  The weather has been less than stellar, but I've still managed to get out a few times to shoot some of the area railroading.  Oh, yeah, and Norfolk Southern has been doing trackwork on the Lehigh Line during the day, which I've found out the hard way has affected the trains running through NJ.  Oh, well, at least I was able to catch something.  For this post, we go back to this past Monday, June 1st where I ended up catching a local in Flemington, NJ.
After I got out of the office, I decided to head out trackside to see what I could see.  It was mostly sunny, and clouds were supposed to roll in soon.  So I figured I'd head for the Flemington area and see if I could catch any of the westbound NS jobs.
As I got to River Road, I heard one westbound job call the signal at MP55 – a couple miles west of me – and saw the tail end of an eastbound empty spine job slip around the curve.  Oh, well – maybe something else would be around.
After waiting for a good 90 minutes, with nothing at all on the scanner, something finally came into view.  No, it wasn't a train, but rather a deer crossing the tracks…guess he was lucky there was no trains around.
So I decided to explore a bit.  Well, as I was starting to explore things, I heard the scanner announce that H74 was calling the signals at CP51.  A quick U-turn and I was at a pulloff near the tracks.  I got out to see the local heading for me, of course, as the clouds were thickening up.
As they rolled past, the conductor gave a friendly wave, which I returned, and they continued west – all the while, my camera was shooting away.
Well, at least I caught something.  After that I called it a day and headed to the hotel for the evening.
Thanks for looking!
Tom