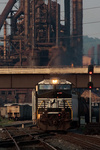 Tuesday actually had some sunshine to work with.  So after work, I decided to head west to Bethlehem, Pennsylvania and see what I could see around the old Bethlehem Steel plant on the Lehigh Line.  As things worked out, I caught a couple trains there, as well as shot a couple pictures of the new Sands Casino in part of the old steel plant.
Because I got out of the office a bit late, I had to contend with traffic – there were a few slowdowns on I-78, but the kicker was the Bethlehem exit.  It was backed up for about 2 miles from the exit.  So I ended up having to go down another exit, turn around, and get off the Bethlehem exit.  Seemed to work well, and I figure it was quicker than sitting in the traffic.
Anyways, by the time I got down to Bethlehem, I heard NS 261 (Roadrailer train) preparing to pull out of town west.  By the time I got down to track level, I was able to catch a shot of the trailers rolling past, with the old furnaces in the background.
After he cleared, it sounded like a track crew was getting their authority to head over the river.  A quick look down the bridge confirmed that – a hyrail and what appeared to be a tamper were coming across the bridge
After contemplating what to do next, I looked to the west and saw that 261 had stopped.  I decided I'd head down and see what was up.
As I got down by CP-Burn, I saw the crew getting back up on the power.  OK, not sure what happened, but I'd at least get the head end of 261 heading west.  A few seconds later, they started rolling west.
And in this shot, you can see the tail end of a railgrinder that's been working the area recently.
As the train rolled past me, I got a few pan shots of the trailers
OK, now what to do?  The only thing I could pick up off of the scanner was some activity in Allentown yard, so I headed back towards the previous crossing.
As I approached the crossing, I could see a train sitting just on the other side of the CP-Bethlehem signals.
After a little bit, and just before the shadows took over for sunlight, HA13 pulled out with the furnaces as a backdrop, crossed over, and headed across the Lehigh River towards Allentown yard.
After that not much else was happening.  I hung around for a while, but nothing was doing.  So I decided to get a couple photos of the new Sands casino, which was built in a portion of the old Bethlehem Steel plant.
At that point, I called it a night and made the 60 or so minute trek back to the hotel.
Thanks for looking!
Tom