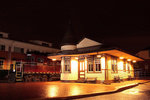 Wednesday was a day of showers and heavy overcast.  So instead of shooting in daylight – and with the continuing trackwork on the Lehigh Line, there was the potential of no trains – I decided to take it easy, and have a leisurely dinner before heading out to shoot.  My aim was to shoot the New Hope & Ivyland under cover of darkness in New Hope, PA.  Well that did happen – but I had to cut things short.  The skies opened up during my little shoot.
I got down to New Hope a little earlier than I hand planned – as in the sun was still up.  So I headed to the Triumph Brewery near the yard for a couple IPAs while I waited for the sun to sink in the west.
After downing a couple nice IPAs, it was dark enough to go out and shoot.  So I moved the car, and got my gear together.  It was still overcast, but no sign of rain, so I guess I was good.  I started with the C30-7, moved to the steamer which is now in front of the engine house, then I headed down to the station to get the GP30 sitting next to the New Hope station with the passenger equipment.  Well, just as I finished up my first shot, raindrops started falling.  OK, maybe I could squeeze one more in.  So I set things up and opened the shutter.  Just then, the skies opened up into a pretty good downpour!  I finished up the shot anyways – despite not only my camera being out in the rain, but also the 480V charged capacitors hanging on my shoulder.  After that shot, I sought the cover of the station overhang, put what I could under my jacket, and walked back to the car in the pouring rain and headed back to the hotel.  I was going to swing by the Black River & Western in Ringoes, NJ on the way back, but the rain was coming down in buckets by then.  The only time I'd leave the car was to head into the hotel…
Anyways, here's the photos from the short time I was shooting with the Lumedyne.
Head to this album
Thanks for looking!
Tom