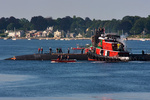 Finally, some summer-like weather is upon us, including bright blue sunny skies.  This morning I was able to take advantage of the beautiful weather conditions on two different occasions – one on my way into work, and the other a bit later on.  And The Hartford I'm talking about isn't the capitol of Connecticut, or the insurance company.
On my way into the office today, like usual I crossed over the Thames River on the Gold Star Bridge.  And like I usually do, I look to the south to see what's going on in the channel.  Well, something down by Electric Boat caught my eye – it looked like three tugs working with something that I couldn't quite make out.  Could it be a sub?  Well, it was worth checking out – and it is on the way into work, so why not…
I got to the Garbo Lobster parking lot to see the USS Hartford (SSN 768), currently under diesel power, being assisted by a trio of tugs into the EB docks for repairs.  Back on March 20, 2009, the Hartford collided with the USS New Orleans, an amphibious assault ship, in the Straits of Hormuz.  Here's a story on CNN of the collision.
Anyways, here's a few pictures of her being assisted into EB for repairs.
With those in the camera, it was time to head to the office.
Then a little while later, I headed out to try and catch Providence & Worcester train NR-2.  So I set my sights on Mill Cove.
Well, as I got there, the scanner was still silent.  So I pushed further north – maybe I could get them at Stoddard Hill.
But as I passed by the little tidal pool near MP7, I caught a chirp on the scanner – OK, a train is around somewhere.  So I turned around and headed back south.  But then I realized that I heard the NECR down in New London on my way into work, so maybe it was them.  I fired up the NECR frequency on the scanner, and it was them across the river switching AES Thames in Montville.  Oh, well, I'm already heading south, so I guess I'll hang out at Erickson Park for a few minutes before calling it a morning.
While I'm parked there enjoying the weather, I heard a faint chirp again on the scanner.  I guess that could possibly be NECR again.  But something sounded different – I could hear a faint rumble in the distance.  And that rumble slowly grew louder.  That was followed by "P&W NR-2 to the Worcester Dispatcher" on the radio.  Oh, crap, NR-2 was south of MP5 – less than a mile from me!
So I high-tailed it down to the south end of the cove to get a few shots of them running along the water.  I got there just as they were blowing for Red Top, and came into view just as I powered up the cameras.  So I bagged a quartet of standard shots.
With them slowing down for the Sub Base, I figured that if I hit the lights right, I could get ahead of them and bag them south of the Nautilus.  It was worth a try…
Well, I got to my spot just as the crossing at the USS Nautilus activated.  Plenty of time!
Moments later, NR-2 came into view, and I rattled off a series of shots as they approached.
And now off to the next spot – maybe I could get ahead of them at the bottom of Fairview Yard.
Well, I did get ahead of them, mostly because they began switching up at the north end of the yard.  After a bit, they headed down into the yard, where I shot some more of NR-2 doing their thing, along with a couple other boats heading by in the Thames
At that point I called it a morning.  Can't complain with what I came away with!
Thanks for looking!
Tom