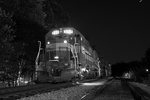 I had made plans with Nick Palazini to try and do a little shooting along PanAm Railway's District 3 and 4 on Saturday night.  Hopefully we would catch something along the way.  Our plans started out as meeting up at East Deerfield and playing it by ear from there.  Of course, things changed – as it turned out, for the better.
Saturday evening, before I left, I got a call from Nick.  He was in Westminster, MA and there were two trains tied down there – one that may be sitting for a bit, and one that would take off soon.  The sitting trains ended up being NMED and AYMO – with AYMO getting a fresh crew before NMED.  We figured that since NMED would be around for a while, I'd head up there to meet Nick instead of ED.  So after putting the girls to bed, I headed up to Gardner to meet up with Nick.
Once we met up, we combined into one car and headed east to Westminster to shoot NMED.  The first one Nick & I both did the lighting.
With those shots in the bag, we headed back west to split back up into 2 cars, and continue along the PAR tracks to see if anything was hanging around.
We first stopped by Gardner to see what was up.  When we got there, we were greeted by a pretty much empty yard, but looking east, the signals were lit with a green.  Hmmm, something was nearby, so we opted to hang around for a few and see what showed up.
A few minutes later, EDNM showed up, and stopped a bit short of us.  But looking back at the signals, they were all now red.  Our guess is that NMED got a recrew, and were heading west.  But we took the opportunity to shoot EDNM as they sat still in Gardner.
After that, we continued west, checking spots as we went along.  Each time we were greeted by empty tracks.  The last set of empty track was at Farley's, just west of Erving, MA.  There, in a light fog, were a couple signals near the crossing.  So we spent a little time shooting those signals (and the moon) before heading to East Deerfield.
It was a good thing we left Farley's when we did.  As we pulled across Railfan Bridge (which had a few railfans on it, despite being near 2am), we saw AYMO sitting at the signals with a fresh crew waiting to head west.  We had enough time to set up and get a few shots off before they pulled out.
From there, Nick was going to continue west, and I headed home.  So we bid farewell, and went our own ways.  It was a long night, but I think it was well worth it…
Thanks for looking!
Tom