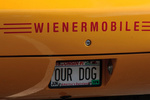 Yep, you're seeing things correctly – that would be the Oscar Meyer Wienermobile sitting in Norwich, CT on Thursday evening.  I noticed it on my way to watch my daughters at gymnastics, and of course I had to stop and get some pictures.  And on the way back from gymnastics, we brought the girls by to check it out.
My guess is they were in town for a Connecticut Defenders game (Dodd Stadium is right up the road from where I found it).  But I couldn't pass up the chance to shoot the world-famous wienermobile!
Head to this album
Why am I craving hot dogs now?
Thanks for looking!
Tom