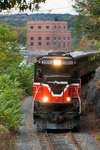 Yesterday was the annual trip of the Massachusetts Bay Railroad Enthusiasts' Circle Tour of southern New England.  The trip, operated by the Providence & Worcester, ran passengers from Worcester, MA, over to Providence, RI, down to Groton, CT then back up to Worcester to complete the three state circle trip.  Of course, as things usually go, I had family commitments that took precedence over shooting this train.  But once those were finished up, I had a chance to get out and catch them at one spot on their trip north from Groton.  And it was at a spot that I had never been to before.
Once the kid's soccer practice & tournament was finished up, Jill brought them to a birthday party, and I had a little time to head out to catch the train, hopefully somewhere around Norwich.  I decided I'd try for south of Taft's Tunnel in Lisbon, CT – a spot that I have yet to visit.
When I got there, I saw a couple cars parked by the road – one I recognized, and one I didn't.  The familiar one belonged to Bob LaMay, who was also at the south portal of the tunnel.  I figured that I had barely enough time to get in there, so I decided it was worth it to run my fat ass north towards the tunnel.
As the south portal came into view, I saw Bob perched on the rocks alongside the tracks, and with no noise behind me, I walked the rest of the way in.
After a very much needed rest after my little jog, and our usual BS session, we heard some rumbling to the south, then caught a glimpse of headlights through the foliage.
A few moments later, the train appeared, with the power plant in the background.
And then a little closer, with some more of the fall colors
Then going into the bore of Taft's Tunnel
And two more of the observation car New Englander slipping into the darkness of the tunnel.  If you look carefully, in the middle window of the car is Nick Palazini with his camera snapping a few photos (hint - to see the really big version to make it easier to see Nick, click the "View in the Gallery" link at the bottom of the photo and then click on the image for the super-sized version).
Then we hiked back out to the cars.  But as we got to our car we found out who the third car was there – it was Rod Aubin, who went south of where we were towards the river.  After a bit of chatting, we were all on our respective ways.  I had to get out to my grandmother's house, so I was done – one stop for me.  But I think it turned out rather well.
Thanks for looking!
Tom