You ever have "one of those days" before where things just didn't go right from the start?  Well, I had "one of those nights" last week.  I found out that the Providence & Worcester would be running an NR-4X to Willimantic under cover of darkness on Thursday night, so I planned on chasing and shooting it between Plainfield and Willimantic.  Also I asked Nick Palazini if he'd like to join me for some experiments in shooting two cameras at the same time with the flashes.  That was the last thing that went right on that fateful evening.
OK, it wasn't all doom & gloom – I did learn a few things, so that's good.  But it did come at a cost – not only in missed photographs, but also a monetary cost.  More on that in a bit…
So Nick & I met up at Plainfield around 7PM to figure out what we'd be doing for the evening.  After talking a bit, it sounded like NR4X was getting ready to head north in the yard, and head west to Willimantic.  So we went to our first spot – Packer's Pond.
We got there a bit ahead of the train, so we had time to set up.  But this is where things started to go awry.  While unpacking, I dropped one of the remote triggers for the flash, and the battery cover popped off.  Well, needless to say we couldn't find the damned thing, so I found a Velcro strap, and used that to secure the batteries in the remote.
With everything in working order, we made our way down to the bridge over the outlet to Packer's Pond and set up the two Lumedynes (mine and Nick's).  With those set up, I linked up the two cameras with my homemade cable and modified remote trigger.  But then the next problem cropped up – with the two cameras linked, they just kept firing away on their own.
While trying to figure that out, we spotted lights approaching from the east – crap, here comes the train!  With the flashes set up, I managed to squeeze off one mediocre shot of NR4X crossing the bridge.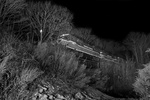 OK, sure, we've got some issues, but I figured our best bet would be leapfrog the train, and head out to Baltic where we could set up and experiment well ahead of the train's arrival.  So we packed up and headed west.
We got to Baltic and started setting up – and while setting up we heard over the scanner that they were working in Versailles, giving us even more time to work the kinks out.  As it turned out, just the opposite happened…
After experimenting for a while, we found out that the amount of time that each camera "thinks" prior to opening the shutter differs slightly between the two cameras – my 50D and Nick's XTi.  But I came up with a workaround so we could both get shots.  So now came the waiting.
And wait we did – that was actually the highlight of the evening.  Some good conversation ensued for a while, then we noticed that the scanner was silent.  That could only mean NR4X was on their way.
With the train apparently heading towards us, I figured we should do another test shot to make sure we're good to go.  Just then something caught my eye, then panic set in.  What caught my eye was the light stand with the Lumedyne head 10 feet in the air  tipping over towards the tracks!  Oh shit!!!
Well, it hit pretty hard, and bent the reflector fairly significantly, but what I was more concerned with was the flashtube itself.  When I picked up the head off of the ground, I noticed it was missing.  A quick look around, and I found it laying by the tracks – and it looked to be in one piece!  OK, all might not be lost.  While putting the tube back in the head, I had Nick get his reflector so I could get it back in the air.  All the while, the train came into view in the distance.
With everything back together, I hoisted it back up to the right hight and did a test shot – nothing.  And the train kept getting closer.  Bringing the head back down, I tried the manual trigger button on the back of the head – only a slight tick happened, but no flash.  Then I noticed that the tube itself was broken, so I was only hearing the trigger relay firing.  Crap!  Then with some rather loud expletives shouted, we called it a night.
I managed to bend the reflector back into shape, and Nick lent me his flash tube so I could use it down here in NJ.  But I had a chance to head over to B&H in NYC last night to get a new tube (and a sand bag to weigh down the light stand).  So we're back in business.
Thanks for looking!
Tom