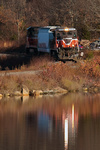 With the pretty much fiasco of last Thursday night on my mind, I really wanted to "redeem myself" and get some decent shots without destroying any more of my gear.  So on Friday I headed out to try and catch Providence & Worcester train NR-2.  Figured that was pretty safe – and as it turned out, I got more than just NR-2, and everything remained intact.
That morning I got a call from Bob LaMay – he was up in Preston waiting for NR-2 and hadn't seen them yet – so I figured I'd head out.  With the timing, I figured my best bet would be Mill Cove.
As I got to the bottom of Long Cove Road, I noticed a car parked nearby, and as I turned left to shoot from the bottom of the cove, I noticed Paolo Roffo waiting on the bridge.  And just as I parked, Bob called to let me know that NR2 was on their way south with one whopping car.
So Paolo & I shot the bull for a bit while waiting for NR2, and during that time NECR train NERWNE headed north across the river, and I got a shot of them with a boat in the river.
After a bit longer, NR2 came into view
Then a standard shot
And this one caught my eye, with a swan floating past in the foreground
Finally a couple more standard shots at the bottom end of the cove
After that I was thinking of going over to Shaw's Cove and catching them there.  But Paolo said he'd be heading over to Niantic to the NAN drawbridge.  I figured that since it had been some time since I was over there, I'd join him.
Well, I finally got over there (had to wait for the car drawbridge to close) a few minutes before we saw any action on the tracks.  After picking out my angle, we waited.  A couple minutes later, Amtrak train 171 rolled across the bridge with a pair of AEM-7 toasters on the point.
But then as the tail end passed by, I noticed something odd – the last car was wrapped in a McDonalds McCafe theme.  So I quickly grabbed the telephoto and got a shot of it crossing the Niantic River
Then a couple more of it heading off into the distance.
Pretty neat catch!  And not too far behind 171 was NR-2, now with an extra car that they picked up in Fairview Yard.  I got a series of shots of the freight rolling along Niantic Bay
With NR2 fading off into the distance, I figured it was time to head back to the office.  So as Paolo was setting up for his next shot, we bid farewell, and I packed up the gear and headed back to Groton.
Thanks for looking!
Tom