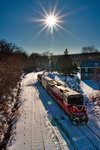 Another sunny, but cold morning today.  Not quite as windy as it had been, but still pretty cold.  And there's still plenty of the white stuff on the ground to make things look all nice and pretty.  So I had to get out this morning and see if I could get some shots in.  Well, since I usually don't post about my failure days, and the fact that there's a picture to the right with a train in it, you can pretty much bet that I caught something out and about in southeastern Connecticut.
And that something was in fact Providence & Worcester train NR-2.  After some fits and starts (mostly fits), I managed to figure out where NR-2 was, and catch them at Poquetanuck Cove on the Preston/Ledyard line and again in Fairview Yard in Groton.  I could have bagged them at another spot or two, but I was limited because my car (Hyundai Elantra) can't exactly make it through the 18-24″ plow drifts on the side of the road to park.  So I had to choose spots where I could safely park, and more importantly get out.
OK, enough of that, here's the goods from this morning.
Head to this album
Thanks for looking!
Tom