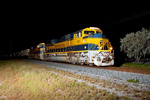 Been down here in Florida for a few days now, but haven't had a chance to head trackside.  Tonight was the first time I was able to get out – and with the help of ATCS Monitor, I was able to catch a FEC freight in Boca Raton, FL.  Only problem was my timing.
Tonight as we were getting the kids ready for bed, I checked out ATCS Monitor to see if any trains were in the area.  There was a southbound around West Palm Beach, so I figured the timing would work out OK – enough time to put the kids to bed, and get up to Boca Raton to set up and shoot the train coming south.
With the kids all snuggled up in bed, I got my gear together and headed out.  As I passed by the intermediate signal just north of the Boca/Deerfield Beach line, I saw that it was showing a high green for a southbound.  Now the question was will I have time to get up to Palmetto Park Rd. and set up my gear before the train showed up.
As I got to the light at the intersection of Dixie Highway and Palmetto Park, there was still no evidence of the train showing up.  I took a left when I got the green arrow, and as I crossed the tracks, I saw headlights to the north – crap, this was going to be close!
I got to my spot a bit south of the crossing, and started hastily setting up my gear.  Just as I got the Lumedyne assembled and on the light stand, the crossing activated at Palmetto Park Rd.  Crap, here they come.
No time for a test shot – only just enough time to guess at the head's angle, hoist the light and set up the camera.  Just as I was ready, FEC train 101 started blowing for the crossing.  Moments later, they came into view, and I popped off this one shot.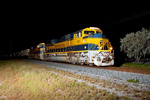 Not a bad catch – a couple SD70Ms pulling about 10,000′ of intermodal.  Too bad I didn't have time to work on a better lighting setup.  Oh, well, next time…
If you're curious, the lighting was just my 400 watt/second Lumedyne, 10′ in the air about 8′ to my left and a bit behind me.
Thanks for looking!
Tom