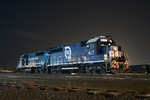 Snowbirds – the term used for people who live here in the north and "migrate" south to Florida in the winters.  As some of you may know, a pair of Florida East Coast Railway GP40s have been leased to the New England Central Railroad, and are making their way up here from their warm home along the east coast of the Sunshine State – hence the "anti-snowbird" term in the title. [side note – there are supposed to be more units coming this way – these are the first ones] Last night, I took a gamble and took a ride up to West Springfield, MA with friend & fellow photographer Bob LaMay to see if the pair were in CSX's yard.  You see they left Selkirk earlier in the day, but according to sources, they were supposedly headed for Barber's Station, MA, which is in Worcester.  On a hunch, we headed north to see if CSX dropped them in the yard and the pair were sitting there under the cold, dark skies of West Springfield.  We even had a backup plan – if they weren't there, we'd head over to the Springfield Amtrak station and shoot the trains laying over there.  At least we'd walk out with something…
Once we got off of Route 5 in West Springfield, and made our way around the rotary (I hate rotaries) and onto Memorial Ave, we started talking about if we'd really see the pair of geeps sitting there.  As the CSX yard came into view, we were greeted by a pair of blue FEC GP40s sitting nicely within view at the east end of the yard.  Sweet!  So we spent the next hour or so there, and shot the hell out of the units.  I even tried a couple HDR shots (they're noted in the descriptions).  Once we exhausted all the angles, we packed up and headed across the river to see what was at the station.  When we got there, we were greeted with a pair of Springfield shuttles, as well as a train that heads down to Washington DC laying over for the night.  With those as our subjects, we shot there for another hour or so then hit the road home.  Not a bad night at all overall.
Oh, yeah, all shots except for the first one of the FEC units were done with ambient light.  That first one was lit with both ambient and the Lumedyne.
Head to this album
Thanks for looking!
Tom