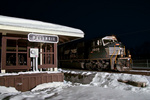 Last week I was down in New Jersey again for work, and as has been my usual practice, the cameras and Lumedyne have come along for the ride.  Instead of doing a post for each time I went out to shoot, I'm just going to roll everything up into one post…easier that way.
February 16, 2010
With the President's Day holiday on Monday, I didn't head down to the Garden State on my usual Acela until Tuesday morning.  After work that evening, I decided to take advantage of what remaining light was left, and stop by Bound Brook station before checking into the hotel.  While there I was able to catch a couple eastbound NJT runs, along with one westbound CSX (pretty sure it was Q439).  With the light pretty much gone, I headed up the road to the hotel and checked in.  After sitting around for a bit I decided to head up to Morristown and shoot whatever was outside the Morristown & Erie shops.  But I did take the scenic route to Morristown – making a stop in Whippany at J&R Cigars to enjoy an El Rey del Mundo and a draught Boddington's.  I'm glad I did that, because there was pretty much nothing at the M&E shops – making the cigar & beer worth the trip north.  Here's Tuesday's photos:
Head to this album
February 17, 2010
Day Two in the Garden State was greeted by some sunshine.  So I took advantage of it and headed down to the Bound Brook NJ Transit station to see what action I could grab.  As it turned out, that was the right move – in addition to the usual NJT commuter runs, I was able to shoot an eastbound CSX work train, as well as a a pair of NS jobs – one east and the other westbound.  And within the westbound's consist – an empty autorack job – was a Providence & Worcester rack.  Later in the evening I decided to head out to Macungie, PA and do a little night work on NS.  While out there, I bagged four NS jobs around the pavilion in town.  On the way home, I swung through Allentown to check out the yard ops, and also made a stop in Bethlehem, where I saw the PBNE dropping a cut of stacks off for NS, but wasn't in position to shoot them.
Head to this album
February 18, 2010
Thursday the 18th started out as a cloudy morning, so I decided to sleep in a bit and not shoot in the AM.  Instead, on a whim, I headed up to Morristown again to check out the M&E.  At least there was something up there – a Maine Eastern FL9 was sitting outside the shops.  Being a NH fan, I had to shoot this old girl.  And while I was there shooting, I was paid a visit by Morristown's finest.  Apparently someone called me in, so he had to investigate.  After a brief chat ("Oh, you're a train guy?  You know so-and-so?  OK, have a safe night."), we shook hands, and he went his way.
Head to this album
And that was it for this trip.  Friday also started out with overcast skies, so I stayed in bed.  Later in the day, of course, was graced with glorious sunshine and blue skies.  Of course…  Well, at least I was able to get on an earlier train home and get in an hour before I was scheduled to.  Nice surprise for Jill & the kids.
Thanks for looking!
Tom