I didn't get a chance to head out today – kinda swamped at work.  So instead of not posting anything, I took a break from the Olympics and scanned a couple slides in.  At least we'll keep things somewhat fresh here…granted the pictures are at least 6 years old…
First up is a shot I took back in 2003 up in East Deerfield, MA.  Here we have Guilford train EDRJ's power – a pair of SD26s – heading back to the house to be serviced after cutting off their train in the yard.  This was taken on Fuji Provia 400 during CTC Board – Railroad Illustrated's Day In North America 2003.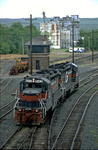 And second is one from the Sunshine State.  This one features a former Pennsy E8A that was painted in Florida East Coast colors and is currently housed at the Gold Coast Railroad Museum in Miami, FL.  This one was taken on my favorite film – Fuji Provia 100F – during my first visit to the museum.
And that'll do it for tonight…maybe it'll snow in the morning making up for the dreary past few days we've had here…maybe it'll still be raining.  Guess I'll find out soon enough.
Thanks for looking!
Tom