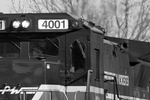 Another sunny day today that I was able to take advantage of (tomorrow's another story – got morning meetings).  So keeping with my near avoidance of the Providence & Worcester's Norwich Branch, I only got a couple shots of them in Fairview Yard, then headed over to Niantic to get some shots over there.  But when I got there, I decided to take a walk and try another angle.
Going to keep it short today.  I got a couple shots of NR-2 in Fairview, along with a shot of NECR NERWNE working New London across the Thames.  From there I headed down to the Niantic Bay Boardwalk, where I headed east to get some shots along the boardwalk.  But halfway down, I had a change of heart and decided to head out on the end of McCook Point and see what the angles looked like from there.  Liking what I saw, I waited for Amtrak 171 and NR-2 to come onto the scene.
That's about it…now here the photos.
Head to this album
Thanks for looking!
Tom