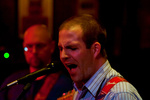 Last night Jill & I had a rare night out – the kids were at a sleepover at their cousin's house, and we took advantage of that and headed into Arch Street Tavern in Hartford to check out the reunion show of a friend's band – The Screwdrivers.  So here's something a little different – some photos from the show.
As most of you probably know, most bars & nightclubs feature quite dim and moody lighting.  So these were shot at ISO 3200, and given a bit of noise reduction in Lightroom 3 Beta 2 (which does a very nice job of it, BTW, as I mentioned here).  Everything was shot on the 50D paired with the Sigma 70-200mm f/2.8, pretty much left wide open all night to get as much light as possible on the sensor.
So without any further adieu, here's a short selection of a half dozen shots out of the over 500 I took.
Head to this album
I'll get to wading through the rest at some point in the future.  I still need to get through the stuff I shot on PanAm, CSX and CNZR for Railroads Illustrated's DINA 2010 event on Saturday.  That's got a hard deadline…
Thanks for looking!
Tom