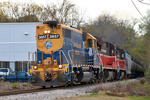 So I managed to get out a few times last week – including one night jaunt shooting both the Providence & Worcester and New England Central (both sporting "foreign" power).  Other stuff from the week was the P&W and NECR in daylight – including an ethanol move, along with a couple Shore Line Amtrak runs.
Overall, not a bad week shooting around southeastern Connecticut.  Some "regular" stuff – like P&W NR2 and Amtrak along the Shore Line, but also some more unusual stuff – including a nighttime jaunt shooting P&W NRWO as they made their way from Baltic to Willimantic, where they met up with NECR train NERWPA (sporting one of the FEC GP40s as a lead motor), and NECR train NERWNE with P&W power, as well as a string of loaded ethanol tanks.
OK, enough typing – here's the look back at last week along the tracks (there's 42 there – so give it a chance to load!).
Head to this album
Thanks for looking!
Tom