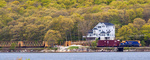 Kind of a hectic day today, but I managed to get out for a short spell this morning.  Of course, things didn't go exactly as planned – no Providence & Worcester action, but I did manage to get the New England Central across the river as they headed north through Montville.
I headed up to Mill Cove this morning to hopefully catch P&W NR-2 heading south, but apparently that mill fire up in Norwich (here's the story at the Norwich Bulletin) flared up again today, so that delayed the P&W a bit.  But before leaving I heard NECR train NERWNE head north out of New London, so I figured it would be worthwhile to hang around for a couple minutes and shoot a couple frames of them across the river.
A few minutes later, NERWNE came into view, and I got a couple shots of them – both passing by houses and the emerging greenery along the Thames River.
Head to this album
And that was it – by that time, NR-2 was still north of the fire scene, and I was short on time.  So I packed it in and headed back to the office.
Thanks for looking!
Tom