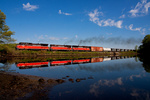 Got a bit behind lately with the posts – but that doesn't mean I wasn't out shooting at all.  Actually, it was less than usual, but here's part one of two wrapping up the last week or so of stuff along the Thames River.  This one covers April 30th to May 5th, and was shot at Stoddard and Goss Coves – but the ones at Goss Cove are the interesting ones – that's where the Apache part of the title comes into play.  And you're probably wondering where the hell Goss Cove is anyways…read on and you'll find out – it's actually a quite familiar place that I just found out the name of…
First up was a few shots from the last day of April, and these were at the aforementioned Goss Cove – which is also where the Nautilus Overlook Park is located.  I found this out looking at some old USGS topo maps from the 1940's and 1950's.  Anyways, here's some shots of P&W NR2 heading south along the Cove
Head to this album
Next up was from Monday May 3rd, which was a rainy and dreary day.  Same spot & train as previously, but there was something different in the background.  The USNS Apache (T-ATF-172), which is a US Navy fleet ocean going tug, was moored at the south end of the Sub Base, so it made it into a couple shots.  Also in there were a couple shots at Fairview a bit to the south.
Head to this album
On the fourth was a few shots at Stoddard Cove in Ledyard – this time sporting blue skies with whispy clouds and a nice reflection on the cove.
Head to this album
And finally, another morning at Stoddard Cove with a nice reflection – the only difference was that instead of having cars behind the power, they were a trio of light engines heading south.  This was also followed up by a few shots back at Goss Cove in Groton with the USS Nautilus and the USNS Apache.
Head to this album
That's it for part one – stay tuned for Part two…
Thanks for looking!
Tom