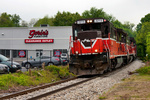 Phew, once again I'm running a bit behind…story of my life.  But I did manage to get out a bit last week and grab a nice variety of moves – some pretty run of the mill, and a couple that were quite unique.  Too bad the unique ones were a result of the PW derailment in Lisbon, CT, but at least I was able to capture those jobs.  Now onto the stuff…it's going to be a long one, so grab your favorite beverage, buckle up, and enjoy the ride…Going back to last Monday the 10th, I had to leave work early for a doctor's appointment.  I figured I'd head up Thames Street and see if I could shoot anything crossing the Thames River on my way north.  As I neared one of my overlooks, I heard a westbound Acela hit the Midway detector a mile or so to the east.  OK, I'd have something – so I parked and waited a couple minutes for them to show up.
Not long after parking, the Acela appeared and I rattled off a few shots of them traversing the Thames (note the work occurring on the fixed spans of the bridge – to me it looks like lead abatement, and stripping the old paint off the structure)
Not bad – and a look at the watch told me I still had plenty of time to get up to Bolton in time for my appointment.  So got back in the car, and continued north towards I-95.
But before I got too far out of the parking lot, I heard the Amtrak New London dispatcher talking to P&W NR2 about getting them out of Shaw's Cove and back onto home rails ahead of the next eastbound Acela.  Well, it looks like I would be using up all my spare time.
I figured with the sun angle, my best bet would be around MP7 in Ledyard, shooting from the river side of the tracks, instead of the usual east side.  After parking and hiking down the hillside, I got into position and waited.  Well, the wait wasn't that long – pretty soon NR2 reported to the Worcester dispatcher that they were northbound out of Fairview.  A little while after that, they came into view to the south, near Dow Chemical.
Over the next minute or so, I snapped off a series of shots of NR2 travelling between MP7 in Ledyard and MP8 in Preston.
And as NR2 slipped out of sight, I made my way back to the car, and my appointment (which I was still early for).
Next up was Wednesday evening.  Early Wednesday afternoon P&W train NR3 derailed in Lisbon, CT, shutting down the Norwich Branch, and isolating NR2.  As things sorted out, NR2 made their way back over to the New England Central yard in New London, where the NECR would bring the train north the next morning to Willimantic.  There the PW would crew the train, and head east over the Willimantic Branch.  Back to Wednesday evening.  With the train sitting in the yard overnight, I figured it would be a perfect opportunity to shoot it as it sat under the Gold Star Bridge.  So after making a few phone calls (to Nick Palazini and Bob LaMay), we had set up a time to meet up and shoot the train under the bridge & stars.
We were there for a good hour, and got a number of shots, but here's one from the evening.  Saving the others for another time…
Now to the next morning.  NECR train NERWNE (aka 608) was to head south to New London, do their work, then when they were ready to head north, they were tie onto the PW train, and bring it to Willimantic.  I managed to get them at a couple spots from the east side of the Thames as they assembled the train and headed north.  Look carefully at the 4th one down, and you can see Mark Shenking right below the cab of the NECR geep as he was getting his shots.
And that was it for Thursday.
Now we come to Friday, which is when I got word that there would be an NECR 608 extra out of Willimantic first thing in the morning, bringing a PW train down from Willimantic to New London since the Norwich Branch would still be closed for a couple more days.  I managed to time things pretty well, and got the train at a number of spots between Franklin and Montville – a bit different seeing PW power lead a train on the west side of the Thames!  Also got a couple shots of the regular 608 waiting in the clear on the Yantic runaround.  Oh, yeah, and I ran into Jim Van up in Franklin as well – had a nice chat with him waiting for the extra to get out of Willimantic.
I had to break it off at that point, and get back to the office.  The train ended up swapping power with NH-1X at New London, and headed back north with a decent sized train, and a different trio of power.  Unfortunately I wasn't able to catch that.  Hey, at least I got something!
And that wrapped up last week's activities!
Thanks for looking!
Tom