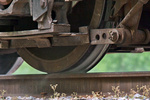 I wasn't planning on doing any chasing this weekend – we had a busy one planned.  Saturday we spent the day in New York at my cousin's graduation party, and Sunday was to be a day of working around the house – most notably rototilling the garden.  Of course, plans usually change – and the Sunday plans did change as the day unfolded.
Jill & kids had to head out Sunday morning to see a friend of hers from high school and meet her new baby.  So I took that chance to get the garden tilled and ready to go.  When they got back, we decided to head into Willi for lunch.  On our way back home, crossing over Bridge Street we saw a lone NECR geep sitting north of the crossing – looks like there was an extra in town!  But with no camera, and Katina had a birthday party to get to at 2pm, an impromptu chase was out of the question.
Well, until I asked Jill if she would mind if I went out for a couple hours – she didn't have a problem with it since we'd be down a kid anyways.  So once we got home, I got suited up and hit the road to find the NECR.
I came across the job working in Willimantic preparing to head south – this is where the afternoon began.  Starting at the Frog Bridge, and working my way south through South Windham, and finally wrapping things up down in (literally) Susquetonscut Brook near milepost 20 in Franklin.  So enough typing, here's the stuff from Sunday afternoon.  Oh, yeah, in case you're wondering where "sand" comes into things, that was down in South Windham where they sanded the rails prior to grabbing their train and heading south.  You'll see what I mean…
Head to this album
Thanks for looking!
Tom