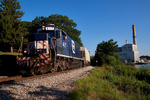 Down here on the south end of the New England Central Railroad, we've had a visitor from down south working on the Montville switcher job for the past week or so.  One of the four Florida East Coast locomotives has been assigned the duties on train NERWNE recently.  Last
Friday I had a chance to shoot it at a somewhat new spot in Montville.
With the current schedule of train NERWNE, I'm usually able to get a shot or two of them as they head south out of Montville at the start of their day.  Friday the timing worked out nearly perfectly, so I decided to try out a new spot down by milepost 5 in Montville.  I didn't have to wait long for the train to get their paper and head south out of town to begin a sunny Friday.  Nothing special, but the shots are from a new spot.  Expect to see more from here as I work the angles – it's kinda tight, but has potential.
Head to this album
Thanks for looking!
Tom