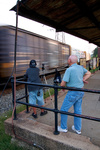 This one is from back on September 2nd – yep, still catching up on stuff.  Over my past trips down to New Jersey, I've met a few local railfans down there, and every Thursday a group gets together to watch & photograph trains at Bound Brook station.  I figured that a little railfanning with a group of like-minded guys would be a nice change of pace to my usual "go-it-alone" style.  Plus it seems that lately Bound Brook has been my destination of choice – mostly because it's 2 minutes from the hotel…
It turned out to be a nice night of trains, conversation, and some laughs.  There was a variety of folks there – from teenagers to grandparents (I, of course, fall somewhere in between), and all had a great time.  I stayed until about 9pm, where I was able to break out the Lumedyne and light up two westbound trains (one CP and one CSX).  Pretty happy with the way the pictures came out also.  Not much else to tell, other than I got a chance to use the higher ISOs on the cameras – taking quite a few at 1600 or 3200.  And, of course, I worked my fellow railfans into a few pictures – hope they don't mind (if they do, it's too bad…heh…)  OK, enough of that blabbing, here's the pictures from the evening.
Head to this album
And that was it for the evening.
Thanks for looking!
Tom