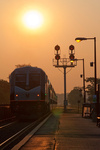 With the days progressively getting shorter, time to shoot outside of work hours is getting limited.  But that doesn't mean I put the cameras down and not shoot.  Just means I have to work with the cards I've been dealt.  So while I was on my trip to New Jersey, I headed out to shoot before and after work – shooting in the dawn and dusk hours in the northern Garden State.
On September 1st, the weather forecast was for nice and sunny skies.  So I aimed to get up early and head down to Bound Brook station for a bit before work and shoot.  Then after work, I wanted to head out somewhere a little different.  After doing a bit of research, I decided on Piscataway Township a bit further east of Bound Brook.  But of course, as things panned out during the evening hours, those plans changed.
After not sleeping through my alarm, I headed down to Bound Brook as I had planned.  With only a short time I could be there, I managed to get a couple NJ Transit commuter runs under the rising sun.
Head to this album
Then after a full day at the office, I headed down to Piscataway Township, where I managed to catch one westbound CSX, and an eastbound NS train.  Also got some nice sunset pictures, along with a deer family crossing the tracks.  After sitting around for a while after that NS eastbound with nothing in sight, I decided to call it a day.  But on my way back (I took the "scenic route" to the hotel, which of course parallels the tracks), I noticed a stack train sitting at Bound Brook.  Apparently CSX train Q191 was waiting at CP-BOUND BROOK for three hours for another train to drop a few cars in Manville yard.  Also, behind Q191 was the CSX train I saw earlier in Piscataway – Q439.  So I stopped in Bound Brook for a bit, took a few shots, and when I heard over the radio that it would be at least another hour for Q300 – the job in Manville yard – to finish up, I headed back to the hotel for the evening.
Head to this album
And that was it for the first day of September.
Thanks for looking!
Tom