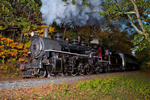 The Essex Steam Train is putting on a "Fright Train" this year – a Halloween themed train ride from Essex up to Chester and back.  On the first night it ran, I decided to try something new – using the Lumedyne at dusk instead of in the darkness as I usually do.  Well, that and shooting a moving steam engine instead of the usual diesels that have plied the night rails.
I got to Essex about 15 minutes before departure – just enough time to grab a coffee in Centerbrook, and set up at my first spot – the crossing at Old Deep River Road.  So with hot coffee in hand (it was a cold evening), I set up the Lumedyne and took a few test shots.  Happy with the angle and flash placement, I waited.  A few minutes later the distinctive sound of #40 came around the bend, followed by lights and a column of smoke.  I snapped a shot just before the train hit the crossing, getting some of the fall color into the frame.
A quick check of the LCD showed me I pretty much nailed the shot!  OK, now could I fit another in?  I figured my best bet would be Deep River Landing, and setting up on the north end of the yard by the boat launch would work the best.
I got there just as the train was in earshot – only leaving me a couple moments to get the gear out, set it up and get a test shot off.  This time I stopped down a bit more, and kept everything else the same – I wanted to get the sky exposed right, and using the Lumedyne to light up the train.  Well, as he came into view, rattling across the crossing, I tripped the shutter, getting this shot – what I think was the best of the two (even though I screwed up the flash placement – it cast a shadow of the crossbuck across the nose):
Satisfied with the two frames I got, I packed up and headed home – well, not home, had to meet Jill & the girls at gymnastics practice in Norwich.  If all goes well, I plan on shooting the last of the Fright Trains this coming weekend.
Thanks for looking!
Tom