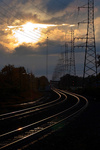 Wednesday I managed to get out of work at a normal hour, and headed to Bound Brook for a little shooting.  I figured I'd get something in before heading to the hotel for the night.  Oh, how I was wrong there…Not wrong in how I'd catch something – but wrong about heading back to the hotel for the night.  After hanging around Bound Brook for a while and only catching one NS eastbound freight, I headed out to get a bite to eat for dinner.  While eating I had the idea to head down to Hopewell, NJ and see if I could do some night shots at the old station, which is located on CSX's Trenton Line (I would have probably never known about this spot, but I recently saw some nice shots there on Andrew Blaszczyk's blog here).  So after eating, I got back in the truck and made my way down to Hopewell.
When I got there, I thought all hope was lost – as I pulled into the station, a westbound was just coming into view – no way I'd be able to set up in time.  So I just enjoyed the train's passing.  Then I waited – and waited.  And again waited some more.  Then I gave up, packed everything up, and started back home the way I came.  But as I crossed the tracks west of the station, I glanced back east, and saw something odd – a green signal!  OK, something was heading this way!
After setting back up, Q174 came rolling by the station, and I got one shot of them.  At that point, I called it a night – figured it was a success.
Head to this album
Thanks for looking!
Tom