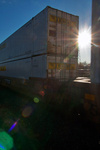 The only other time I got to get out and shoot in New Jersey was on the 17th.  I managed to get a few shots in at Bound Brook before heading to the office, then after work I ventured out to Macungie, PA to shoot some night action.  As things turned out, there wasn't all that much action either in the morning or evening.  But I didn't get skunked all together.
Greeted with a clear and sunny morning, I had a little time to swing by Bound Brook station and shoot for a bit before heading into the office.  While there I managed to catch a NJ Transit run, as well as one single eastbound on Conrail – Norfolk Southern train 214.  With red signals and a silent radio, I headed up to the office for the day.
After work, I hemmed and hawed on what I wanted to do.  So I decided to head west to shoot at Macungie, PA – I figured the NS Reading Line is usually busy, so at least I'd have a target-rich environment.  Well, boy was I wrong there.  When I got there I heard NS train 261 – a westbound Road Railer out of Bethlehem, PA – preparing to leave.  And that was about it for a while.  Luckily Steve Barry was giving me ATCS updates via Facebook, and I managed to catch one more train – an eastbound 39G – before his display went pretty much dark.  I didn't hear anything but a yard job in Allentown on the radio, so I decided to pack it up after 39G.
And here's the shots:
Head to this album
Thanks for looking!
Tom