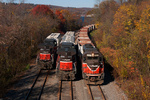 OK, time to start clearing out the backlog.  For this post we're going back to Veteran's Day 2010 when I happened to catch Providence & Worcester train NR-2 returning to and working in Fairview Yard.  And while they were working, a pretty rare thing happened – yeah, the thumbnail pretty much gives it away, but read on for the full explanation.
So I managed to get out for a bit on Veteran's Day, and was searching for P&W NR-2.  Not much was going on over the scanner, and there was a single P&W unit idling on the center track of Fairview Yard in Groton.  A bit odd, but was worth checking out.
After parking the car, and getting a shot of the idling unit in the yard, I heard NR-2 talking to the Amtrak New London dispatcher – they were coming back from Tilcon at Midway and heading for Fairview – OK, cool at least I'd get them coming back into the yard before having to head back to the office.
After a few minute wait, the Dispatcher lined NR2 across the mains and up the east leg of the Groton wye, where they came into view and stopped short of the Fairview Ave. bridge.
They then cut away from the train, and headed down the westernmost track, stopping next to the idling locomotive.
And finally, the power on the other end of the train shoved the empties up the easternmost track, making a pretty nice lineup of P&W power on all three tracks in Fairview – something I've never seen before!
After spotting the Tilcon empties on the eastern track, the Geep came back down and coupled onto the one unit on the westernmost track
With those two units tied back together, they contacted Amtrak for permission to head west.  And with my time about up, I walked back to the car and headed back to the office for the day.
Thanks for looking!
Tom