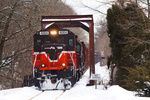 OK, I know, I'm behind on my posts.  But I'm making it a point to catch up (thanks Rich!) and get up to date – trust me, the silence here doesn't mean I haven't been out shooting.  To the contrary, I've actually been able to get out a surprising number of times.  And to start things off, for this post we're going back to February 3rd and 4th.  Both days I managed to catch the New England Central Railroad in Yantic, CT.  But from looking at the power, you'd never know it was the NECR running through the small village of Norwich.
February 3, 2011
Quite honestly I can't remember why I was up in Yantic around lunchtime on the 3rd, but I managed to catch New England Central train NERWNE heading north through the small village that's a part of Norwich.  That day the train was powered by a Providence & Worcester B40-8, Florida East Coast Railway GP40 and a NECR GP38.  Quite a colorful power consist.  Of course, this was all against the snowy backdrop of this small New England village.
Head to this album
Frebruary 4, 2011
Friday the fourth brought me back to Yantic, but this time I remember what I was doing.  It was the end of the day, and I was on my way to meet up with Jill & the girls at gymnastics class up the hill from Yantic.  Of course, as I was going by I heard NERWNE talking on the scanner, so I made a little detour.  After finding them, it turns out they were running as a single light engine (FEC GP40), and clearing the grade crossing flangeways of any built up ice & snow.  This was ahead of a unit ethanol train that was due to get to New London a bit later in the evening.  So I stopped to get a few shots of Jim chipping away (sorry Joe, I didn't get any shots of you and the shovel), then guiding the locomotive over two crossings in town.  After that it was off to watch the girls at gymnastics.
Head to this album
And that's it for this installment!  Stay tuned for the next one from New Jersey.
Thanks for looking!
Tom