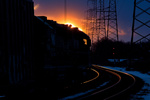 Back on February the 8th I had to go down to New Jersey for the day (training class at work).  So to avoid traffic, I hung around the area for a bit and headed north around 5:30ish, avoiding much of the traffic in the northern Garden State.  Since I only had a limited amount of time, I decided to head down to Bound Brook and see what I could shoot.  Well, as things turned out, I got some pretty cool shots.
It was a cloudy, cold & blustery morning when I got to the NJT station at Bound Brook.  Not long after getting there, an eastbound NJT run pulled into the station, and after exchanging passengers, continued east towards Newark.  Even with the usual consist, I still got a shot as they cleared the signals.
Then it was time to wait around.
Luckily I only had to wait about 10 minutes for Norfolk Southern train 20E to come into the picture.  I bagged two shots of them pulling through the interlocking, and past the station.
After they cleared, things died down and I headed to the office for the day.
Later in the evening, I headed back to Bound Brook.  Despite the lack of rail activity, the skies got rather interesting.  And I got a few shots of the clouds as they passed by, some of them revealing blue skies behind, and others showing some pretty dramatic colors.
About another 10 minutes passed, and the Middlesex detector to the east went off.  Soon after that, a Conrail local appeared, and slowly approached CP-BOUND BROOK (NS 33K was in Manville yard working, so the Conrail had a stop signal).
But turning around 180 degrees gave me a dramatically different scene – the sun lighting up the clouds directly in front of the train!  And since I'm never one to give up a chance to shoot into the sun, I took the shot.
Then it was the local's turn to wait along with me.
About five minutes later, NS train 18N appeared in the distance
And passed by the local
With 18N clear, it was back to the waiting game.  But this time as I was waiting, the skies kept getting more interesting.  As the sun was setting, and the clouds passing by, I got a few shots of the train sitting at the interlocking in the fading light.
With the light nearly gone, and the tripod in the car, I decided it was time to embark on my 3.75 hour drive home.  So I packed the gear back into the rental, and made my way back north, and homeward bound.
Thanks for looking!
Tom